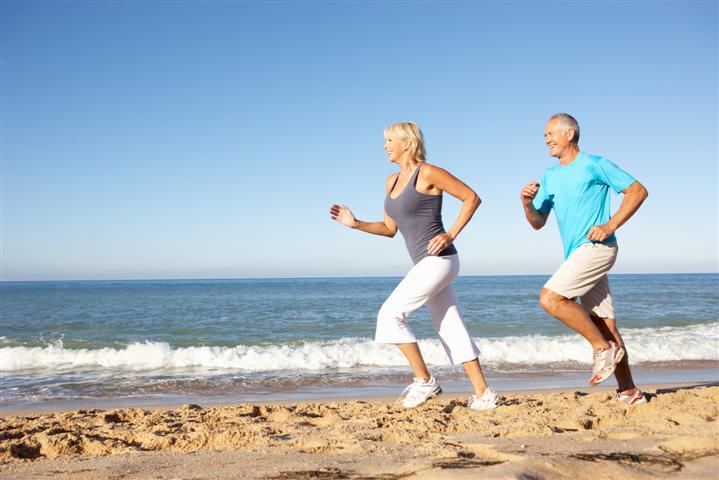 Just about everyone is aware of the importance of staying active as a we age, as it is so important to our overall health and well-being. One of the difficulties associated with that however, is that the body itself is constantly slowing down as we age, which means staying active requires a real effort to get up and about; overcoming the natural tendency to relax.
Here are five tried-and-true components of active, healthy living, using examples that everyone, even seniors, can easily manage and derive great benefit from. If there are some aspects of these suggestions which you just aren't up to, some home health care assistance may even be an option for filling in some of the gaps.
Light cardiovascular
There's a tremendous value in cardiovascular workouts, because they increase the heart rate and blood flow,  strengthen the heart muscle, and improves respiratory processes. If you have access to a swimming pool, swimming or water aerobics are great ways to use all the muscles in the body, and if not, a brisk walk in the morning can get your heart pumping. Depending on how fit you are, you might also try hiking, biking, golf, or tennis; all of which are excellent cardiovascular activities.
Regular stretching
Because flexibility decreases significantly as we age, muscles need regular stretching in order to retain some degree of flexibility. There are a great many terrific exercises for stretching legs, back muscles, and torso, to keep muscles from contracting and stiffening, and these should be done as often as possible to maintain and promote flexibility.
Balance training
It's very important to incorporate even some light balance training into your active senior lifestyle, because this can be extremely helpful in avoiding falls and potentially serious injuries. Disciplines like Pilates, Yoga, and Tai Chi provide this kind of balance training, and classes like this are offered at many local fitness centers and by community organizations. If you need transportation, this could be provided through MD Home Assist.
Strength training
Strength training doesn't have to be anything like body-building in the traditional athletic sense, but some moderate strengthening of your muscles can help you perform simple household chores much more easily, and it helps to strengthen your bones. You also don't need any gym equipment or expensive gadgets to help you with strength training – you can use simple elastic resistance bands, ordinary pieces of furniture, and even the walls of your home to provide the resistance you need for some beneficial exercise.
Indoor/Outdoor chores and activities
Staying active and fit can happen as a by-product of doing regular household chores, both indoors and outdoors. Mowing the lawn is good walking exercise, and provides resistance to some extent. You can get great benefits from scrubbing some part of the house, cleaning out a shed, doing laundry, or re-organizing the basement.
When you have chores done for the day, why not hook up with peers for dancing, walking, bocce ball, or some organized activities? If you can keep your active lifestyle full of enjoyable and fun things to do, there is a much greater chance that you'll continue the activities regularly, and make it a built-in part of your healthy lifestyle.
Assistance with your active lifestyle
Sometimes a little assistance is all that's needed in order for you to maintain an active lifestyle, and you require some home health care, such as that provided by MD Home Health/Home Assist. Services such as medication reminders, feeding, light housekeeping, healthy grocery shopping, companionship, and transportation services can add motivation, and ease the burden on you, so contact us today, and we'd love to assist in your energies to staying active and healthy.