Personal Care, Homemaker & Companion/Supportive Services to Assist with Tasks of Daily Living
MD Home Assist offers a full range of custodial, homemaker and personal care services for the individual in their home or group facility. Services are available 24 hours per day/seven days per week and are provided on an hourly or daily basis.
All of our caregivers are employees, not independent contractors, and are required to undergo rigorous pre-employment background checks as well successfully complete the Direct Care Worker training program designed and certified by the State of Arizona.
Personal Care Assistance
Bathing
Shampoo/Hair Care
Dressing
Shaving
Skin Care
Toileting
Medication Reminders
Feeding
Nail Care
Homemaker Tasks
Light housekeeping
Dust
Clean floors
Meal Planning and Preparation
Laundry
Wash Dishes
Grocery Shopping/Errands
Changing/Make Bed
Other Services
Sick Child Care
Post-surgical Assistance
New Mother/Baby Care
Live-in
Companionship
Wake-up/Tuck-in
Transportation Services
Customized Care
Every patient is entitled to the highest quality of care, customized to their specific medical conditions and home environment. This is why, before care is ever delivered, a detailed Care Plan is developed by the MD staff in cooperation with the patient's physician, hospital discharge planner and family.
An Intake Specialist will meet with the patient and family members to coordinate his/her home health care with their physician, hospital staff and discharge planner. From this will come the design of a customized Care Plan that addresses the medical, nutritional, physical, cultural, environmental, emotional and social needs of the patient.
Contents of the Care Plan will include the types of tasks to be performed, their frequency, and any special considerations or requests. After approval from the patient and/or loved ones, a copy of the Plan will be placed in a folder in the home and serve as the guide to the caregiver(s) on how to spend their time on each visit.
Our Caregivers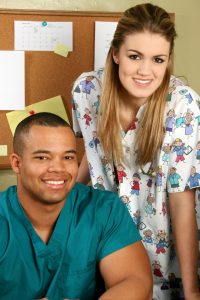 While there are many home health agencies for a patient to choose from, we believe our attention to the hiring of only the most qualified and caring individual's sets us apart from all other agencies.
Pre-Employment
All prospective caregivers must have successfully completed a rigorous screening program which includes:
Reference and criminal background checks
Fingerprinting
Motor vehicle record
Health care license verification (where applicable)
Clear health physical including test for TB
Successfully pass a written and hands-on competency test
On-Going Supervision & Education
On-site visits by the MD Supervisor to the patient's home
Weekly review of the caregiver's notes documenting each patient visit and comparing to Doctor's orders and Care Plan objectives
Individual employee-supervisor conferences
Discussions with the patient and MD Home Health support staff
Mandatory Annual Continuing Education Requirements
MD Home Health also has a strict alcohol and drug abuse "no-tolerance" policy with random testing conducted.
Bonded & Insured
All caregivers are bonded to cover theft or damage to a patient's property. They are also insured by a AAA-rated national company for professional/general liability and by a state-funded workers compensation policy. Combined, these coverage's should give the patient and family the peace of mind they seek in a financially secure agency.
Cost of Care
Our qualified and compassionate caregivers can ease your health care burdens at a surprisingly affordable cost. Once a needs assessment is completed, an Intake Specialist will be able to provide you with a quote of the recommended services, their frequency, and cost. We will verify coverage and benefits you may have through private insurance prior to the start of care. We accept most private insurance plans, as well as Medicaid/AHCCCS Health Plans, Veterans Administration, DDD, workers compensation and long term care insurance. If you are not covered by any insurance, we of course accept private pay offered at competitive rates.
If you are enrolled in Medicare, it may pay for services if you meet the following criteria:
You require a skilled service(s), such as nursing or physical therapy
You must be homebound
Your care must be intermittent and under the direction of a physician
We will inform you during the Assessment/Evaluation stage if we believe the services you require will be covered by Medicare.
All claims to third party payors will be submitted by our office as a courtesy. However, a deposit will typically be required prior to the start of care.