How can we help your patients and fill your referrals?
Primary Care Physician Market
There are currently 15 million patients receiving home care and assistance in the US, with more than 600 million patient visits yearly. The need for medical and non-medical home care is rising. As a primary care provider, you strive to refer your patients to an organization led by safe, caring, compassionate, and protective hands where the patient's experience is of utmost importance.
Skilled Nursing Facility Market
At MD Home Health and MD Home Assist, we offer you the opportunity to partner with a reliable, professional, state-licensed, Medicare-certified home health agency that has been providing care to the community for over 35 years. We enhance the patient experience by offering a non-medical sister company MD Home Assist. MD Home Assist provides quality caregivers to provide both housekeeping and personal care on a short-term or long-term basis.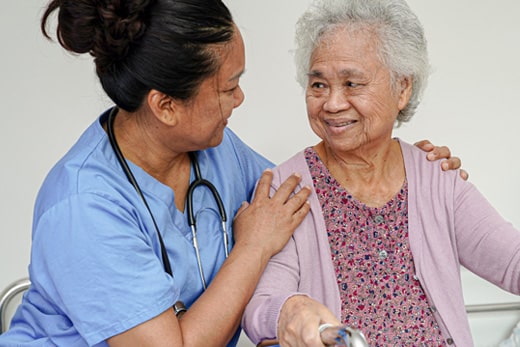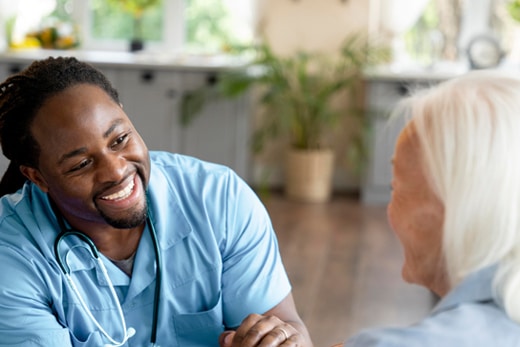 At MD Home Health, we pride ourselves on the continuous care we offer for your residents in and out of your facility. We help them live easier, safer, and limitless lives, all with the help of trained nurses and therapy professionals.
Mobile Primary Care Physician Market
In the US, there are currently 15 million patients who receive home care and assistance, with over 600 million patient visits annually. As a mobile physician, you understand the increasing demand for medical and non-medical home care services. That's why referring your patients to a reputable and reliable organization that prioritizes the patient's experience is essential.
In hospital settings, hundreds of patients every month would benefit from a continuum of care pathway by home health services to dramatically reduce readmissions. At MD Home Health, we provide hospitalized patients with timely coordination of care and admission to our home health services. Our patient-specific care is provided by highly trained clinicians, with a focus on safe transition to the home. Equality of health and access to care are pillars of MD Home Health's core values. We are contracted with Medicare, AHCCCS, and most Medicare Advantage health plans.
Physical Therapy & Orthopedics Market
At MD Home Health, we understand the importance of initiating home health care as soon as possible, and how it can make or break the patient's future and their ability to get back to their normal lives.
Graduating From Hospice to Home Health
Graduating from hospice care is an important step toward recovery, but it can also be a source of stress. Overnight, patients go from having a familiar team of healthcare professionals to fending for themselves with a new at-home team.
End-to-End Infusion Support
The ability to quickly and efficiently administer infusions can be a game-changer for the patients under your care. At MD Home Health, we help facilities throughout Greater Phoenix take advantage of this.
Health Insurance Assistance
At MD Home Health, our in-house insurance team specializes in a range of quick, accurate, and efficient insurance services designed to make things easier for both home care facilities and insurance providers.
Workers Compensation Claims
When people are injured on the job, they often face a long road back to full health and optimal performance. In many cases, this will require extended long-term home care after being discharged from the hospital.
Looking for a trusted, local professional to help you address and treat wounds within the comfort of your own home? MD Home Health has got you covered. From complex surgical wounds and burns to venous stasis ulcers, diabetic ulcers, and pressure ulcers, we put patients throughout Greater Phoenix on the path to recovery. Leveraging advanced wound care training and education, our clinicians use Negative Pressure Wound Vac devices and other cutting-edge equipment to treat your wounds with expert precision.
Fill Out The Quick Form Below