Home Health Care Jobs in Phoenix, AZ
Welcome to MD Home Health, where we offer exceptional home health care services in Arizona.
Welcome to MD Home Health, where we offer exceptional home health care services in Phoenix, AZ. Quality care starts with exceptional people, so we always seek passionate and skilled professionals to join our team. MD Home Health is the perfect place to be if you're looking for a fulfilling career in the healthcare industry. As a member of our team, you'll have the opportunity to make a real difference in the lives of our patients and their families. So why wait? Join us today and start your journey toward a rewarding career in home health care!
Like many other states, Arizona is experiencing a growing demand for healthcare workers. As the population ages and healthcare needs become more complex, the demand for qualified healthcare professionals rises. According to the Arizona Department of Administration, home care employment in Arizona is projected to increase by more than 20% between 2018 and 2028. This growth is expected to result in tens of thousands of new jobs in the state, providing ample opportunities for those interested in pursuing a career in healthcare. With this growing demand, there has never been a better time to consider a career in the healthcare field in Arizona.
What is home health care, and how does it differ from other healthcare jobs?
Home health care jobs involve providing medical care and support to patients in the comfort of their own homes. This type of healthcare is designed for individuals who require ongoing medical attention or rehabilitation after an illness, injury, or surgery but prefer to remain at home rather than be admitted to a hospital or a nursing home.
Home healthcare jobs differ from other types of health jobs, such as hospital or clinic-based jobs, in that they involve traveling to the patient's home to provide care. Home healthcare workers may include registered nurses, licensed practical nurses, certified nursing assistants, home health aides, physical therapists, occupational therapists, and speech therapists.
One of the key benefits of home health care for patients is increased comfort and independence. Many patients prefer to receive care at home rather than in a hospital or nursing home as it allows them to remain in a familiar environment and maintain a sense of independence. Patients are also more likely to have a personalized care plan tailored to their needs, which can result in better health outcomes.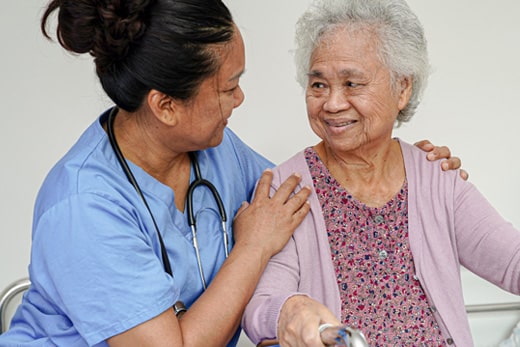 Another benefit of home health care is improved access to care. Patients in rural or remote areas may have difficulty accessing healthcare services, but private home health care workers can travel to these areas to provide care. Additionally, home health care can be more affordable than a hospital or nursing home care, which can benefit patients with limited financial resources.
Overall, home health care jobs play a vital role in the healthcare industry by providing essential medical care and support to patients in their homes.
Benefits of Home health care RN jobs in MD Home Health
There are several benefits of working in home health care jobs at MD Home Health, including:
Meaningful work
Home health care workers can make a real difference in the lives of their patients by providing personalized care that meets their unique needs.
Flexibility
Home healthcare jobs offer a high degree of flexibility, allowing workers to choose their hours and work schedules.
Competitive pay
MD Home Health offers competitive pay for their home health care workers, bonuses, and other incentives.
Professional growth
MD Home Health provides professional growth and development opportunities through ongoing training and education.
Work close to home
Home health care rn jobs typically involve providing care to patients in their homes or nearby facilities, meaning workers can often work close to their homes.
Positive work environment
Working in-home healthcare can be a fulfilling and rewarding experience, as workers often develop close relationships with their patients and their families. MD Home Health fosters a positive work environment that values teamwork and collaboration.
Overall, private home healthcare jobs at MD Home Health offer a unique and rewarding career path for healthcare workers looking to impact their communities positively.
MD Home Health offers home health care services in Arizona.
MD Home Health, a leading home healthcare provider in Arizona, offers a wide range of services to meet each patient's unique needs. Some of the services offered by MD Home Health include:
Overall, MD Home Health is dedicated to providing personalized, compassionate care that allows patients to recover or manage their conditions in the comfort and convenience of their own homes.
Why should you work with MD Home Health?
There are several reasons why you should consider working with MD Home Health. Here are a few:
MD Home Health is a reputable and respected home health care provider that values its employees and provides a positive work environment with opportunities for growth and a rewarding experience.
We will contact you within 24 hours of receipt if received during the week, and 48 hours if submitted on a weekend.